<![if !vml]>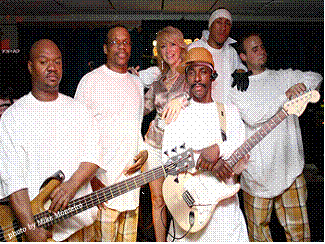 <![endif]>
New local group B r a n d  N e w  F l a v a recently
made their debut to a full house at the 6th Bristol  Club
in New Bedford.
Band members from left to right are T o n y Simmons (bass),
D o n a l d "Duck" Campbell (keyboards),
Ginger "Gstar"  Rayner (vocals), Peter Page (guitar),
Marcus "Brejan" Tavares (vocals), and K e v i n  Pacheco (drums).
Keep a listen for this new hot group because there's bigger
and better things on the R&B horizon for BRAND NEW FLAVA….
This event was a Peter Page production.
Article and photo by Mike Monteiro
CVN Staff Photographer